Laura's 10 tips for happy high heel wearing...
In a recent blog the BOOST physios spoke about the pros and cons of wearing flip flops vs high heels. With it being summertime we provided exercises and advice on combatting the ill effects of wearing flip flops…..but what about high heels?!
Although the perfect pair of 4-inch heeled Jimmy Choos can make any outfit, from the previous blog we know that wearing high heels can lead to problems with bunions, hammer toes, Morton's Neuroma, lower back pain, increased incidence of ankle sprains/falls, tight calves and knee pain.
If like myself you are a lover of high heels and despite knowing the ill effect they can have on your feet, still sacrifice your feet for fashion, you may want to listen to the following advice. Whether you're wearing high heels to work, a special occasion, or just because you want to, take note of my 10 tips for happy high heel wearing…
1. Choose your shoe wisely. Opt for a shoe with a slightly wider toe area to avoid compression of the forefoot. It may sound obvious but wearing a 2-inch heel causes less havoc than a 4-inch heel. I personally find 3-inches to be a happy compromise!
2. Get measured and fitted properly for your shoe by a professional. A shoe that is too small will compress the foot leading to pain and a shoe that is too big will cause your foot to slide around making it unstable and therefore increasing your risk of falling. Consider using heel grips to make shoes feel more secure.
3. Try products such as gel cushions to decrease pressure on the ball of your feet.
4. Decrease the risk of ankle sprains and falls by doing my "high heel prehab". Improve your ankle strength and balance with the following exercises: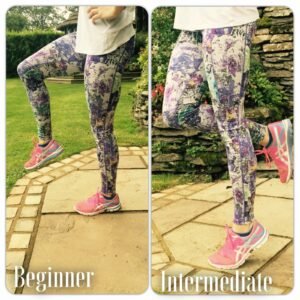 Try to balance for as long as you can.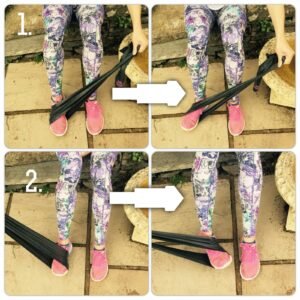 Repeat each exercise 3 x 10 repetitions

5. Stretch the muscles in your foot and calf before and after putting your heels on using the following stretches: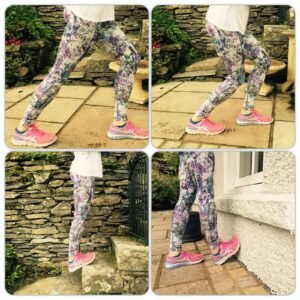 Hold each stretch for 30 seconds and repeat x 3
6. After removing your heels, massage the ball and sole of your foot (particularly around your big toe) using either your thumbs or rolling your foot on a small ball.
7. Find a quiet corner to take your shoes off for couple of minutes – spread your toes apart, wiggle your toes up and down and flex the ankle up and down. Perform each of these movements ten times.
8. Don't stand/walk for long periods in your heels – take regular breaks and sit down to rest and offload your feet.
9. Think about your posture. High heels push your centre of gravity forwards and alter your posture. Whilst wearing heels remember to activate your core and keep a neutral spine. Imagine a helium ballon attached to the tip of you head pulling you up towards the sky and tuck your tailbone under.
10. Spend time barefoot and wear trainers the day after wearing heels to allow your feet to recover.
So, although your sky high stilettos may look fabulous consider the effect they are having on you feet. Hopefully the above advice will allow you to keep up to date with the current fashion trends and continue wearing your favourite dancing shoes.
If despite the advice you are still struggling with your feet, please call us on 020 82017788 to see how we can help you. Boost Physio specialise in treating all aspects of foot and ankle pain.
BOOST PHYSIO has 3 High Street clinics in North London and NW London. Hendon NW4, East Finchley N2 and Hampstead NW3.
View our facebook page at www.facebook.com/boostphysio
and follow us on Twitter @boostphysio and Instagram @boost_physio
Related Articles
Categories
Clinic Information

020 8201 7788

Same Day Appointments
Mon-Thurs 8am-9pm
Fri 8am-3pm
Sun 9am-1pm

Health Insurance Recognised
BOOST PHYSIO works with major insurance companies like: BUPA, AVIVA, WPA, CIGNA and Simplyhealth. We usually deal directly with your insurance company.