What's the best sleeping position?
Many patients ask our physiotherapists what is the best position to sleep in?
On your back?
Is sleeping on your tummy bad?
How many pillows should be used?
If my neck hurts how should I sleep?
What's the best position to sleep in with back pain?
Which position is best to sleep in?
We spend 6 to 8 hours a day sleeping, time that is essential for the body's recovery, repair and growth. Most of us have also awoken with a sore back or a stiff neck from sleeping awkwardly.
The most comfortable sleep position, mattress and pillow arrangement will be whatever enables the body to remain in a neutral, compression free, middle range position for most of its joints.  Joints held at either extreme end of their range of movement for a length of time can become painful and irritated by this sustained position.
1)   What is the best position for sleeping at night? The worst position is sleeping on the tummy. The neck is always twisted in one direction for most of the night causing uneven pressure on the cervical vertebral joints in the neck.  There is also unbalanced tension in the muscles of the neck. Spending hours lying on the front can also cause compression of the facet joints, small joints on the back of the vertebra, causing back ache.

For most people sleeping on the side is ideal.   The knees and hips should be slightly bent up with a small pillow between the knees.   This small pillow between the knees reduces pressure points building up between the bony insides of the knees.  This pillow has the added advantage of preventing the pelvis from falling forwards rotating the lumbar spine.  Many with shoulder pain or hip pain find sleeping on the painful side to be difficult as there is hours of pressure on the painful area, which can be very uncomfortable.

The other recommended sleep position is lying on the back, with 1 or 2 pillows under the knees to reduce the arch in the lower back.  Lying flat on the back with the legs flat tends to cause an arch in the lower back, which can cause stress on the facet joints of the lower back and shortening of the muscles in the low back.
So we have compiled this quick visual guide of sleeping positions.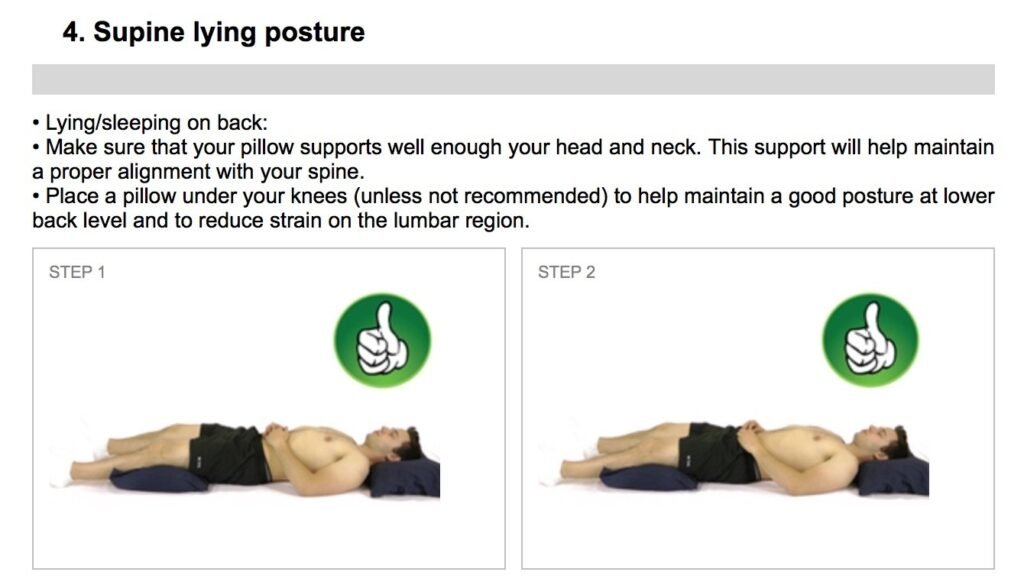 BOOST PHYSIO is a leading private physiotherapy practice with high street clinics across North West London.  We have 4 branches in the following areas:  .  Branches of our physiotherapy practice are in Cricklewood NW2, Hampstead NW3, Hendon NW4 and East Finchley N2. 
Our private physiotherapy clinics treat patients from all over North West London and North London. We provide same day physiotherapy treatment for sports injuries, neck and back pain.  Appointments are available 8am to 9pm and we even have Saturday and Sunday appointments available.
Patients come for physiotherapy from the following areas: Hendon NW4, Mill Hill NW7, Cricklewood NW2, Hampstead NW3, Kilburn NW6, Queens Park, Finchley Road, Golders Green NW11, Swiss Cottage and Willesden Green NW10.  Fortis Green, Muswell Hill, Highgate N6. East Finchley N2.
If you do have nay issues that need attention please book an appointment at one of our 4 High Street Physiotherapy clinics.
Related Articles
Categories
Clinic Information

020 8201 7788

Same Day Appointments
Mon-Thurs 8am-9pm
Fri 8am-3pm
Sun 9am-1pm

Health Insurance Recognised
BOOST PHYSIO works with major insurance companies like: BUPA, AVIVA, WPA, CIGNA and Simplyhealth. We usually deal directly with your insurance company.