Total Knee Replacement
Everyone's recovery after a total knee replacement operation is different, however most people experience pain, stiffness and swelling immediately after the surgery and lasting for several weeks.
Our video below shows one of the people we have are helping, this is 2 weeks after her right total knee replacement operation by Mr Jonathan Miles.
She is walking well with no crutches 2 weeks after surgery, most people however will still be using a walking aid (crutches / walking-stick) at this stage for comfort and to help.
Question: "Will my knee be swollen and bruised after a knee replacement?" Swelling and bruising in the knee and leg is normal after a total knee replacement. One can see that the patient in this video, her leg is swollen from the ankle to above the knee. There is also bruising- below the knee and above the knee- this is normal. We strongly recommend using an ice compression device such as a Cryo-Cuff or Game Ready device. This helps reduce the swelling which helps control pain and improves mobility in the knee.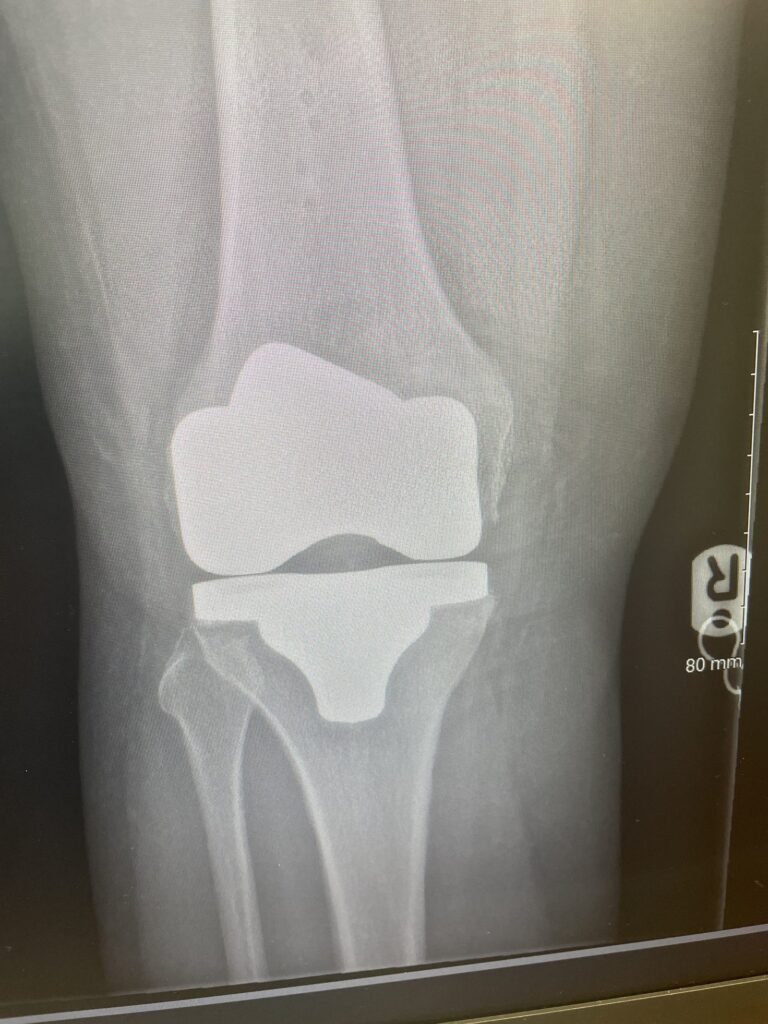 Question: "Will my knee be stiff after a knee replacement?" The operated knee will be stiff after the operation, because of pain, swelling and the dressings. It can take up to 3 months to get flexibility back into the leg. Each week one should be getting a bit more movement in the knee.
Question: "Will I be able to ride a bike after a knee replacement?" We always aim to achieve this goal of pedalling a bike after a knee replacement operation- most people are not able to do so until 6 weeks after the operation. One needs 110degrees of knee bending (flexion) in order to pedal a bicycle. Cycling is a good form of low impact strengthening to the muscles and mobility for the knee joint. If a person's knee was too stiff to pedal a bicycle before a total knee replacement- it is possible that this goal might not be achievable.
Question: "Will I be able to get on and off the floor, or in and out of the bath after a knee replacement operation?" If one was able to do so before a knee replacement operation- we use this as a goal and target working towards achieving this. It is usually something that will be worked on after 6 weeks following the operation.

BOOST PHYSIO is a leading private physiotherapy practice with high street clinics across North West London. We have 6 branches in the following areas: . Branches of our physiotherapy practice are in Elstree WD6, Swiss Cottage NW3, Hampstead NW3, Hendon NW4 and East Finchley N2 and Kensington High Street W8.
Our private physiotherapy clinics treat patients from all over North West London and North London. We provide same day expert private physiotherapy treatment for sports injuries, neck and back pain. Appointments are available 8am to 9pm and we even have Saturday and Sunday appointments available. Emergency physiotherapy appointments on weekends. Same Day Physiotherapy Appointments.
Patients come for physiotherapy from the following areas: Hendon NW4, Mill Hill NW7, Cricklewood NW2, Hampstead NW3, Belsize Park NW3, Kilburn NW6, Queens Park, Finchley Road, Golders Green NW11, Swiss Cottage and Willesden Green NW10. Fortis Green, Muswell Hill, Highgate N6.
Our physiotherapy clinic in Elstree WD6 provides physiotherapy treatment to patients from Elstree, Borehamwood, Physiotherapy for Stanmore HA7, Physiotherapy for patients from Edgware HA8, Bushey physiotherapy WD23, Radlett WD23, Physio for Aldenham.
If you do have any issues that need attention please book an appointment at one of our 5 High Street Physiotherapy clinics.
Physiotherapy hendon, hendon physiotherapy, physio in Swiss Cottage, cricklewood, Cricklewood physio, physio NW2, NW2 Physiotherapy, Physio N6, Highgate Physio, physiotherapy highgate, physio hendon, hendon physio, physio nw London, nw London physiotherapy, Physio WD6.
Related Articles
Categories
Clinic Information

020 8201 7788

Same Day Appointments
Mon-Thurs 8am-9pm
Fri 8am-3pm
Sun 9am-1pm

Health Insurance Recognised
BOOST PHYSIO works with major insurance companies like: BUPA, AVIVA, WPA, CIGNA and Simplyhealth. We usually deal directly with your insurance company.