6 Steps To Avoid Injury On The Slopes

avoid-ski-injury-newsletter

Are you planning a trip to the slopes? Are you prepared? I am not referring to your purchase of the latest 'look' to cruise the slopes in style or sussing out the best Apres ski spots. I am referring to you – your body, is it prepared and ready to take on the physical demands of skiing or snowboarding to return home without a cast or crutches?
Our physiotherapists at BOOST PHYSIO want to share their snow sport advice guide. Musculoskeletal injuries are common, in snow sports. When skiing you are at greater risk of sustaining an injury to your lower limb; most commonly knee injuries like tearing the ACL (anterior cruciate ligament) or sprains and tears to the collateral ligaments of the knee. Snowboarders on the other hand sustain most injuries to their upper limb; frequently sprains or fractures to the hand and wrist or shoulder dislocations.
Why not start your holiday in pristine condition? If you know you have a knee or back niggle visit your physical therapist for some hands-on treatments and exercise prescription so you can enjoy your trip without any flare-ups. Your BOOST PHYSIO can also prescribe strengthening exercises for your knees and quadriceps muscles (thigh muscles); the stronger they are the better they can absorb the impacts of skiing and snowboarding without injury. Yoga, Pilates and core strengthening will protect your back and improve your balance which again may save you from a fall and subsequent injury.
In addition to this being physically fit will make your skiing better and more enjoyable. Injuries often occur later in the day when fatigue sets in and concentration levels lag. The fitter you are the longer you will be able to stay out on the slopes without increasing your injury risk. Ask your physical therapist for advice on aerobic training leading up to your holiday.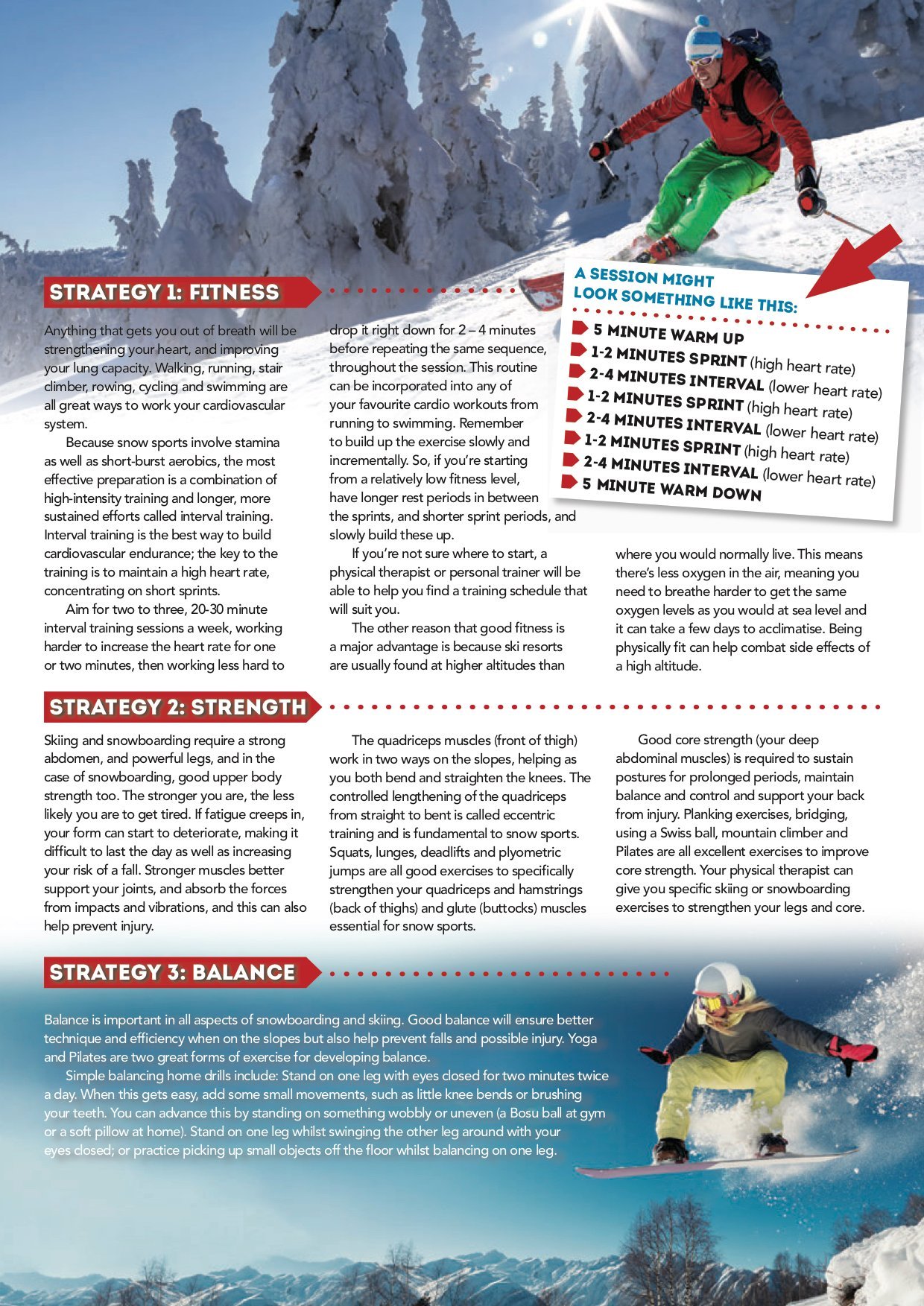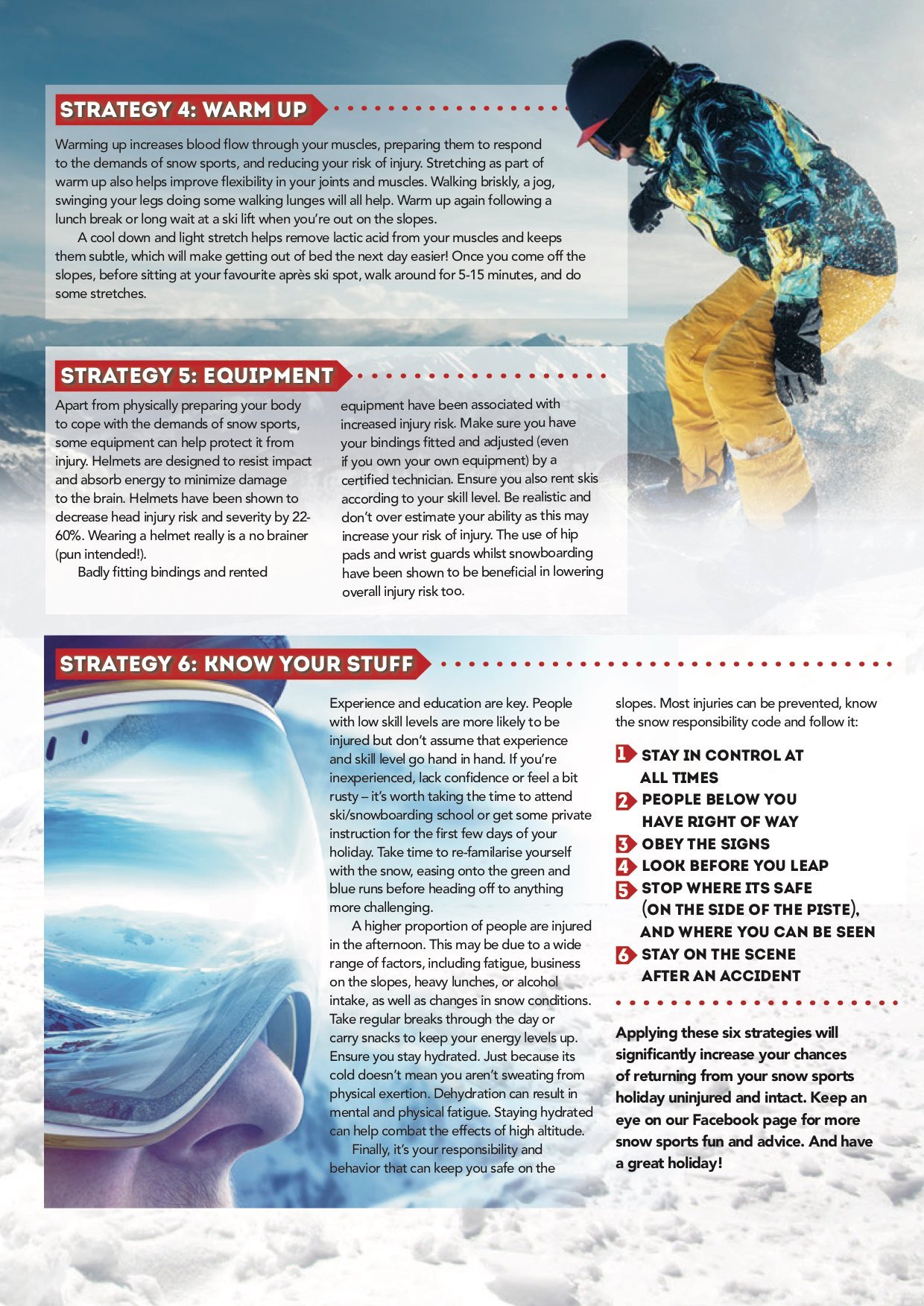 BOOST PHYSIO is a leading private physiotherapy practice with high street clinics across North West London.  We have 6 branches in the following areas:  . Branches of our physiotherapy practice are in Elstree WD6, Swiss Cottage NW3, Hampstead NW3, Hendon NW4 and East Finchley N2 and Kensington High Street W8.
Our private physiotherapy clinics treat patients from all over North West London and North London. We provide same day expert private physiotherapy treatment for sports injuries, neck and back pain.  Appointments are available 8am to 9pm and we even have Saturday and Sunday appointments available. Emergency physiotherapy appointments on weekends.  Same Day Physiotherapy Appointments.
Patients come for physiotherapy from the following areas: Hendon NW4, Mill Hill NW7, Cricklewood NW2, Hampstead NW3, Belsize Park NW3,  Kilburn NW6, Queens Park, Finchley Road, Golders Green NW11, Swiss Cottage and Willesden Green NW10.  Fortis Green, Muswell Hill, Highgate N6.
Our physiotherapy clinic in Elstree WD6 provides physiotherapy treatment to patients from Elstree, Borehamwood, Physiotherapy for Stanmore HA7, Physiotherapy for patients from Edgware HA8, Bushey physiotherapy WD23, Radlett WD23, Physio for Aldenham.
If you do have any issues that need attention please book an appointment at one of our 5 High Street Physiotherapy clinics.
Physiotherapy hendon, hendon physiotherapy, physio in Swiss Cottage, cricklewood, Cricklewood physio, physio NW2, NW2 Physiotherapy, Physio N6, Highgate Physio, physiotherapy highgate, physio hendon, hendon physio, physio nw London, nw  London physiotherapy, Physio WD6.
Related Articles
Categories
Clinic Information

020 8201 7788

Same Day Appointments
Mon-Thurs 8am-9pm
Fri 8am-3pm
Sun 9am-1pm

Health Insurance Recognised
BOOST PHYSIO works with major insurance companies like: BUPA, AVIVA, WPA, CIGNA and Simplyhealth. We usually deal directly with your insurance company.