Specialist Running Injury Physiotherapy Treatment
7 Things All Runners Should Know
Boost Physio, which has four clinics in London is once again an official London Marathon Injury Clinic for the fourth year running. The Boost team of highly specialist physiotherapists that are extremely knowledgeable and experienced and have worked with hundreds of Marathon runners and Triathletes share these 7 things all runners should know.
"Our tips will help you stay on track, keep you confident and give you the guidelines you need to run a successful marathon. If you have any doubts about your fitness or need some help planning your training regime talk to a specialist physiotherapist who will devise a training routine", says Tyrone.

Your shoes – before you do anything else make sure you have a good pair of light weight trainers that are well fitted and provide any stability that may be required. A bad pair of trainers can lead to blisters, knee pain and conditions like plantar fasciitis. You should have run at least 10K in a pair of trainers before the big event. Under no circumstances should you ever wear new trainers for the actual marathon.
Get a check-up and a tune up – if you were taking your car on a long cross country journey you'd get it checked out before you left. The same for your body. Even though you are probably pretty fit it is worth taking some professional advice. Ask a specialist physiotherapist to carry out a biomechanical assessment to pinpoint any issues that need tweaking.
The assessment and their advice can prevent injuries during your training period. Common issues that physiotherapist's treat are calf strains, achilles tendonitis and cartilage irritation of the knee.
"A biomechanical assessment by a physio in a gym environment can isolate and strength test each muscle group appropriate for marathon running by doing this and recognising weaknesses this will reduce the risk injury", says Tyrone.
Stretch and stretch again – Stretching is an important part to your training schedule for injury prevention. Dynamic stretching is advised pre-run and a mixture of dynamic and static stretching is advised post run. The use of a foam roller can be a great tool and a regular sports massage will provide benefit and reduce the risk of injury. "Don't stint on the stretching, not only is it essential but it sometimes helps to identify any niggles and potential problems".
Don't ramp up your training too soon – Remember to progress your mileage sensibly, especially on your longer runs. A quick and high jump in mileage can lead to calf strains and cartilage issues in the knee.  "Stick to the plan and don't push onto the next goal before you need to. If you feel like you can do more that's a good sign, it means your training regime is working and you're reaching your goals and maintaining your fitness. Push yourself too soon and you could hurt yourself", says Tyrone.
Sleep – make sure you get enough sleep, your body needs to repair and those early morning pre-work runs can take their toll if you are not sleeping enough.
Hydrate and stay hydrated – Remember to stay hydrated throughout each run. Dehydration can lead to muscle injury, because muscles use fluids and electrolytes to function properly during exercise.
Training injuries – Seek advice a specialist physiotherapist who will be able to get accurate diagnosis or a precise diagnosis who will treat and basically how quickly you can get back to training.
Sports massage – make sure you have regular massages and book one for after the event, you'll be very glad you did.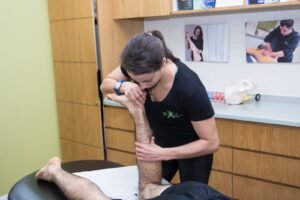 Now we've told you what to do here is some advice on what not to do.
You fall off the wagon – The London Marathon produces a training programme which we recommend you follow. If for any reason, you fall off the training wagon, or you get injured the fastest way to get on track is to see a physiotherapist. They will be able to provide you with treatment if you need it and advice on how to get you back on schedule and help you reach your goals.
Running on an empty stomach – It is never a good idea to run without fuel. If you are not fuelled up you will get tired a lot quicker and possibly cause damage to muscle because you are burning muscle. A sensible marathon diet can and will make all the difference to your training.
A word about socks – just like trainers, you should never wear new socks for the actual event as this can lead to blisters. Like your running shoes, make sure you've done at least one or two long runs in the socks and trainers you intend to wear for the marathon.
About Boost Physio
Boost Physio is one of London's leading physiotherapy practices. With four clinics in North London, at East Finchley, Hendon, Hampstead and one at the Virgin Active Gym in Cricklewood, Boost Physio physiotherapists helps clients with a wide range of physical issues.
The Boost Physio team are all Chartered Physiotherapists who are also trained in our unique Boost Physio method of physiotherapy.
Boost Physio works with many of London's leading surgeons and doctors and the practice is recognised by all major health insurers.
BOOST PHYSIO is a leading private physiotherapy practice with high street clinics across North West London. We have 4 branches in the following areas: .  Branches of our physiotherapy practice are in Cricklewood NW2, Hampstead NW3, Hendon NW4 and East Finchley N2. 
Our private physiotherapy clinics treat patients from all over North West London and North London. We provide same day physiotherapy treatment for sports injuries, neck and back pain. Appointments are available 8am to 9pm and we even have Saturday and Sunday appointments available.
Patients come for physiotherapy from the following areas: Hendon NW4, Mill Hill NW7, Cricklewood NW2, Hampstead NW3, Kilburn NW6, Queens Park, Finchley Road, Golders Green NW11, Swiss Cottage and Willesden Green NW10. Fortis Green, Muswell Hill, Highgate N6.
If you do have nay issues that need attention please book an appointment at one of our 4 High Street Physiotherapy clinics.
Physiotherapy hendon, hendon physiotherapy, physio cricklewood, cricklewood physio, physio NW2, NW2 Physiotherapy, Physio N6, Highgate Physio, physiotherapy highgate, physio hendon, hendon physio, physio nw London, nw London physiotherapy
Related Articles
Categories
Clinic Information

020 8201 7788

Same Day Appointments
Mon-Thurs 8am-9pm
Fri 8am-3pm
Sun 9am-1pm

Health Insurance Recognised
BOOST PHYSIO works with major insurance companies like: BUPA, AVIVA, WPA, CIGNA and Simplyhealth. We usually deal directly with your insurance company.