To Say Thank You... for being a valued patient of ours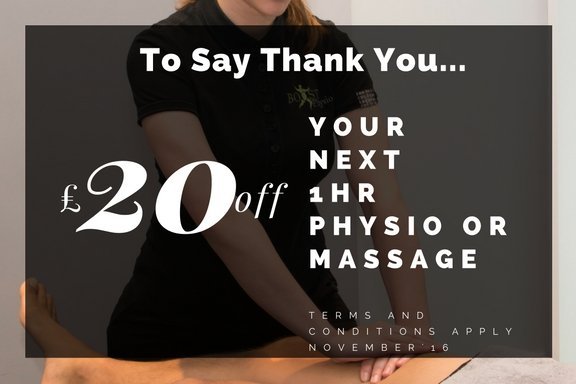 When you are a local physiotherapy clinic, it is only with the support of customers like you that we can succeed- so this gift is to say thank you for being a patient of ours at BOOST PHYSIO. 
Please use this voucher for £20 off a 1 hour Physiotherapy or Massage Therapy appointment with one of our expert team. This gift voucher is available to self-paying patients in November 2016.
Appointments are subject to availability so please book your appointment ASAP by calling us on 020 82017788 or online: www.boostphysio.com/bookonline
Print this voucher and bring it to your appointment. For a 1hour physiotherapy or massage appointment in November 2016, paid for at time of booking. 1 Voucher use per person only. Cannot be used with any other special offers or promotions, nor for outstanding balances.
Related Articles
Categories
Clinic Information

020 8201 7788

Same Day Appointments
Mon-Thurs 8am-9pm
Fri 8am-3pm
Sun 9am-1pm

Health Insurance Recognised
BOOST PHYSIO works with major insurance companies like: BUPA, AVIVA, WPA, CIGNA and Simplyhealth. We usually deal directly with your insurance company.