"Running Shoes 101"- by Laura Harman
Laura's top tips for choosing appropriate running shoes was recently featured on the PSYCLE Spinning community website.  In the article Laura is asked about a physiotherapist's insight into choosing the best running shoes.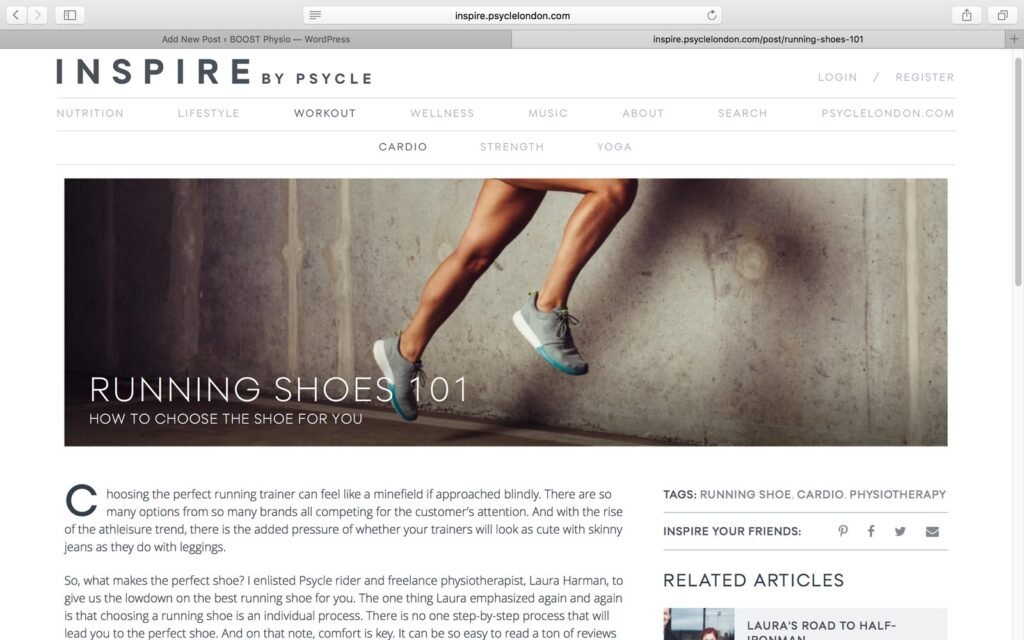 Here is the extract from the PSYCLE article… see the full article here.
A good starting point is to figure out what shape your foot is. Laura explains that feet fall into one of three categories, flat (pronation), neutral or high arches (supination). And easy way to find out which category you're in is the wet foot test. Simply wet your foot and have a look at the shape of your footprint. Having this information is important but, remember, this is only the first step in choosing the right shoe. 
The next step is to have a dynamic assessment where a trained professional analyses both your foot and the rest of your body for idiosyncrasies as you run. If you want to really be sure you are choosing the right shoe, a biometrics assessment by a physiotherapist is useful. All in all, choosing the correct shoe is a complex process and the more professional help you can enlist the better.
Another thing to consider is your terrain. Are you a treadmill runner or do you prefer to pound the pavement? The short of it is that generally you can wear any shoe for either but, if you want to get into the nitty gritty, you can get away with a lighter shoe on a treadmill due to the shock absorbing effect and softer landing. Similarly, sprints and HIIT exercises benefit from a lighter, more flexible shoe whereas, for longer distance running, it's best to have a more heavily cushioned, structured shoe. Laura recommends steering away from having two drastically different shoes as this could potentially cause injury due to an inconsistent load on the soft tissues. However, some specialists recommend using different shoes to prevent overuse injuries.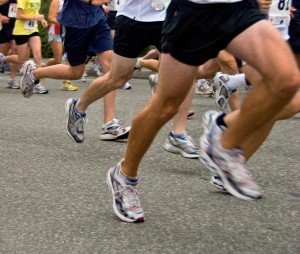 BOOST PHYSIO is a leading private physiotherapy practice with high street clinics across North West London.  We have 4 branches in the following areas:  .  Branches of our physiotherapy practice are in Cricklewood NW2, Hampstead NW3, Hendon NW4 and East Finchley N2. 
Our private physiotherapy clinics treat patients from all over North West London and North London. We provide same day physiotherapy treatment for sports injuries, neck and back pain.  Appointments are available 8am to 9pm and we even have Saturday and Sunday appointments available.
Patients come for physiotherapy from the following areas: Hendon NW4, Mill Hill NW7, Cricklewood NW2, Hampstead NW3, Kilburn NW6, Queens Park, Finchley Road, Golders Green NW11, Swiss Cottage and Willesden Green NW10.  Fortis Green, Muswell Hill, Highgate N6.
If you do have nay issues that need attention please book an appointment at one of our 4 High Street Physiotherapy clinics.
Physiotherapy hendon, hendon physiotherapy, physio cricklewood, cricklewood physio, physio NW2, NW2 Physiotherapy, Physio N6, Highgate Physio, physiotherapy highgate, physio hendon, hendon physio, physio nw London, n
Related Articles
Categories
Clinic Information

020 8201 7788

Same Day Appointments
Mon-Thurs 8am-9pm
Fri 8am-3pm
Sun 9am-1pm

Health Insurance Recognised
BOOST PHYSIO works with major insurance companies like: BUPA, AVIVA, WPA, CIGNA and Simplyhealth. We usually deal directly with your insurance company.