How To Prevent Golf Injuries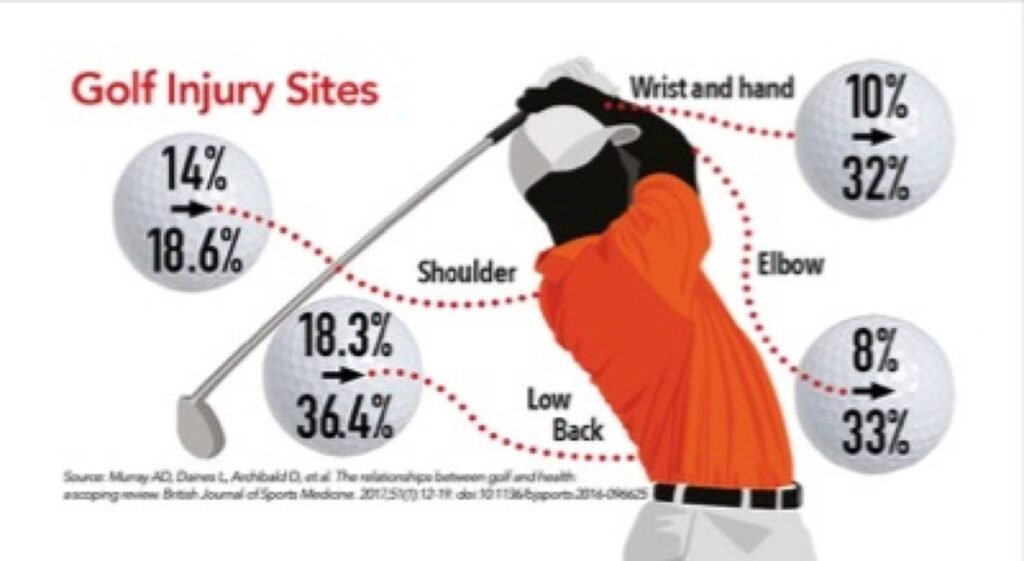 We see a lot of patients who have sustained a golf-related injury. Most often it is an injury that is causing, sometimes intense, lower back pain.
Since the lower back is so vital in producing a powerful golf swing, it is the area most frequently injured, resulting in the persistent pain known as Golfer's Back.
Like everything, a bit of prevention goes a long way, and there are simple techniques you can use to make sure your time on the green is pain-free.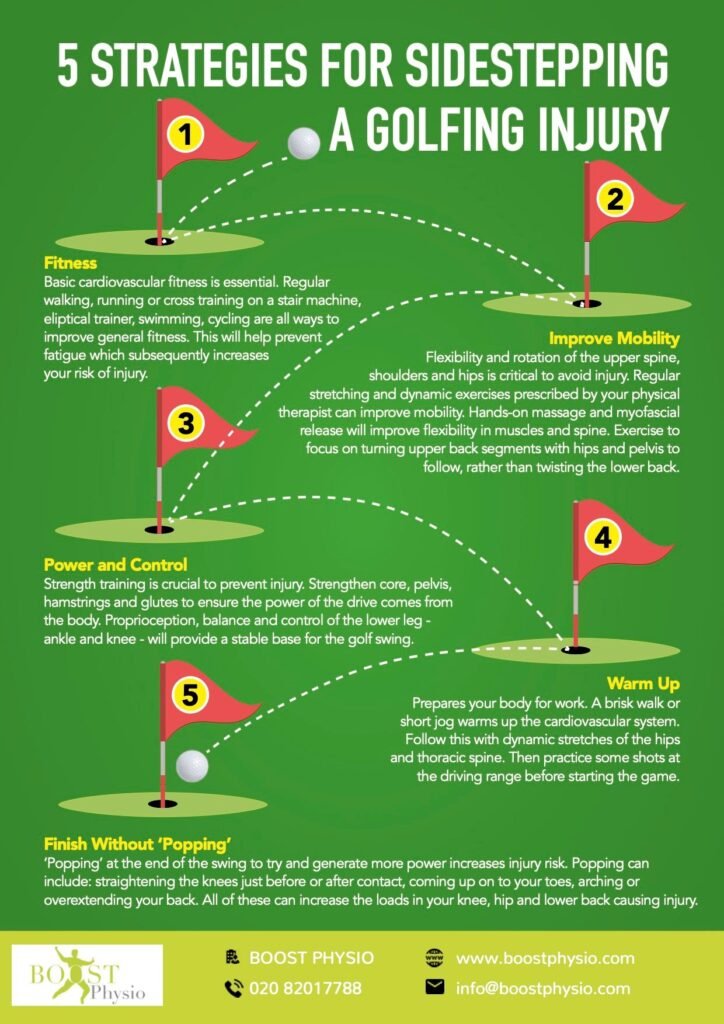 We've developed some informational fact sheets on Golf Injury Prevention which are free to download.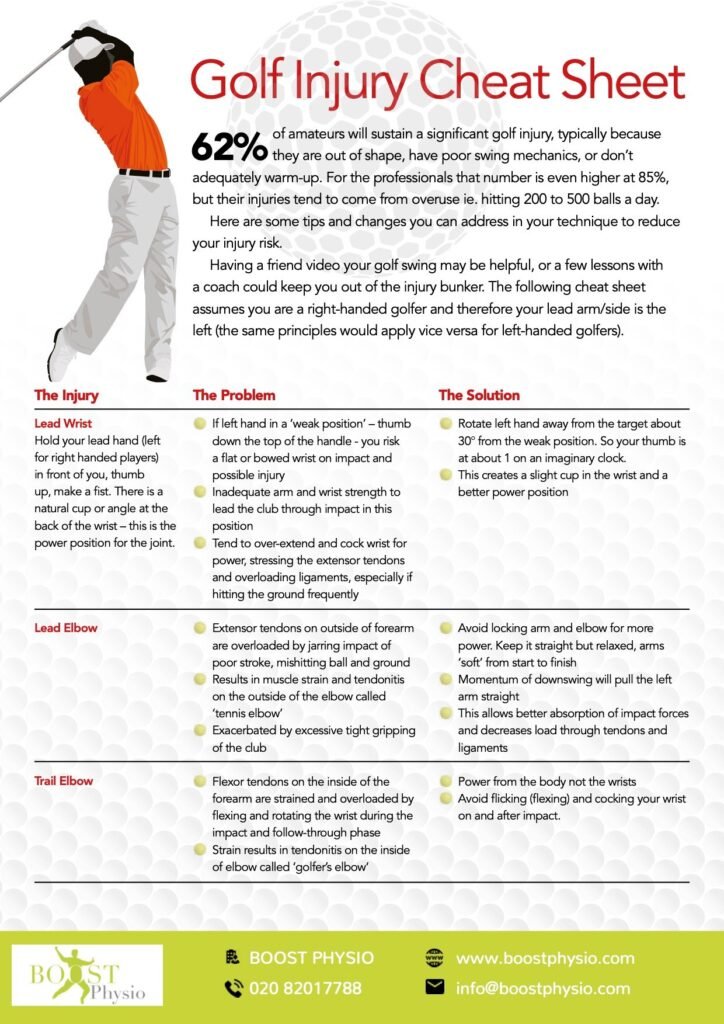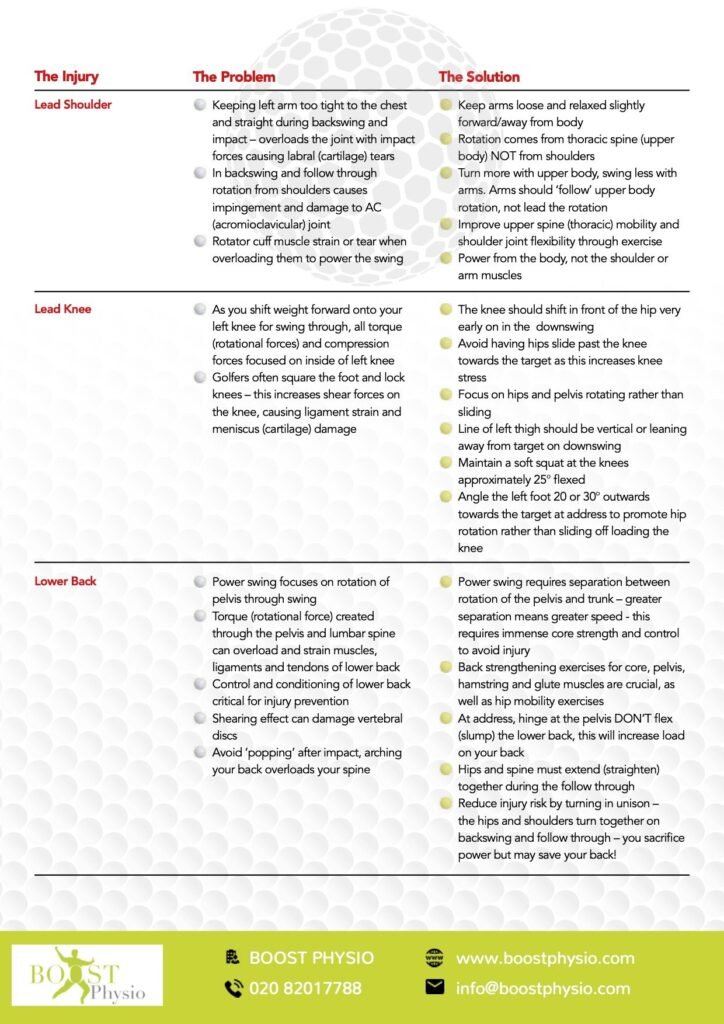 BOOST PHYSIO is a leading private physiotherapy practice with high street clinics across North West London. We have 6 branches in the following areas: . Branches of our physiotherapy practice are in Elstree WD6, Swiss Cottage NW3, Hampstead NW3, Hendon NW4 and East Finchley N2 and Kensington High Street W8.
Our private physiotherapy clinics treat patients from all over North West London and North London. We provide same day expert private physiotherapy treatment for sports injuries, neck and back pain. Appointments are available 8am to 9pm and we even have Saturday and Sunday appointments available. Emergency physiotherapy appointments on weekends. Same Day Physiotherapy Appointments.
Patients come for physiotherapy from the following areas: Hendon NW4, Mill Hill NW7, Cricklewood NW2, Hampstead NW3, Belsize Park NW3, Kilburn NW6, Queens Park, Finchley Road, Golders Green NW11, Swiss Cottage and Willesden Green NW10. Fortis Green, Muswell Hill, Highgate N6.
Our physiotherapy clinic in Elstree WD6 provides physiotherapy treatment to patients from Elstree, Borehamwood, Physiotherapy for Stanmore HA7, Physiotherapy for patients from Edgware HA8, Bushey physiotherapy WD23, Radlett WD23, Physio for Aldenham.
If you do have any issues that need attention please book an appointment at one of our 5 High Street Physiotherapy clinics.
Physiotherapy hendon, hendon physiotherapy, physio in Swiss Cottage, cricklewood, Cricklewood physio, physio NW2, NW2 Physiotherapy, Physio N6, Highgate Physio, physiotherapy highgate, physio hendon, hendon physio, physio nw London, nw London physiotherapy, Physio WD6.
Related Articles
Categories
Clinic Information

020 8201 7788

Same Day Appointments
Mon-Thurs 8am-9pm
Fri 8am-3pm
Sun 9am-1pm

Health Insurance Recognised
BOOST PHYSIO works with major insurance companies like: BUPA, AVIVA, WPA, CIGNA and Simplyhealth. We usually deal directly with your insurance company.