#1 Mistake to Avoid When Exercising
The most common mistake made when exercising is doing too much too soon- often causing injury.  
Here are our 5 tips to ensure you progress exercising safely.
Progress cardio exercise by no more than 10% per week. This gives your muscle and joint tissue time to adapt. You will feel able to do more, hold yourself back and progress slowly.

Don't try and compete (too much) with the person next you in the gym or exercise class- ego can often be one of the major causes of sports injury!

Listen to your body- delayed onset muscle soreness (DOMS) for a few days after heavy or new exercise is normal, but if this is muscle ache is lingering or getting worse- back off and listen to your body.

Give your body adequate rest and recovery enabling microscopic tissue damage to repair. Having 1-2 rest days per week is always recommended.

It is impossible to perform at 100% every workout- Usain Bolt cannot run a world record every single race. 
BOOST PHYSIO is a leading private physiotherapy practice with high street clinics across North West London. We have 4 branches in the following areas: .  Branches of our physiotherapy practice are in Cricklewood NW2, Hampstead NW3, Hendon NW4 and East Finchley N2.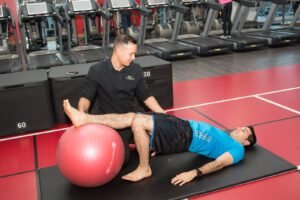 Our private physiotherapy clinics treat patients from all over North West London and North London. We provide same day physiotherapy treatment for sports injuries, neck and back pain. Appointments are available 8am to 9pm and we even have Saturday and Sunday appointments available.
Patients come for physiotherapy from the following areas: Hendon NW4, Mill Hill NW7, Cricklewood NW2, Hampstead NW3, Kilburn NW6, Queens Park, Finchley Road, Golders Green NW11, Swiss Cottage and Willesden Green NW10. Fortis Green, Muswell Hill, Highgate N6.
If you do have nay issues that need attention please book an appointment at one of our 4 High Street Physiotherapy clinics.
Physiotherapy hendon, hendon physiotherapy, physio cricklewood, cricklewood physio, physio NW2, NW2 Physiotherapy, Physio N6, Highgate Physio, physiotherapy highgate, physio hendon, hendon physio, physio nw London, nw London physiotherapy
Related Articles
Categories
Clinic Information

020 8201 7788

Same Day Appointments
Mon-Thurs 8am-9pm
Fri 8am-3pm
Sun 9am-1pm

Health Insurance Recognised
BOOST PHYSIO works with major insurance companies like: BUPA, AVIVA, WPA, CIGNA and Simplyhealth. We usually deal directly with your insurance company.