Ski-Specific Advice for 2017
If you are skiing this season please see the article that Laura did for Outdoor Enthusiast Magazine.
Laura, a keen skier herself, has worked in a Ski resort- so she ideally placed to provide expert advice and tips for before, during and after a ski trip.
Great article Laura!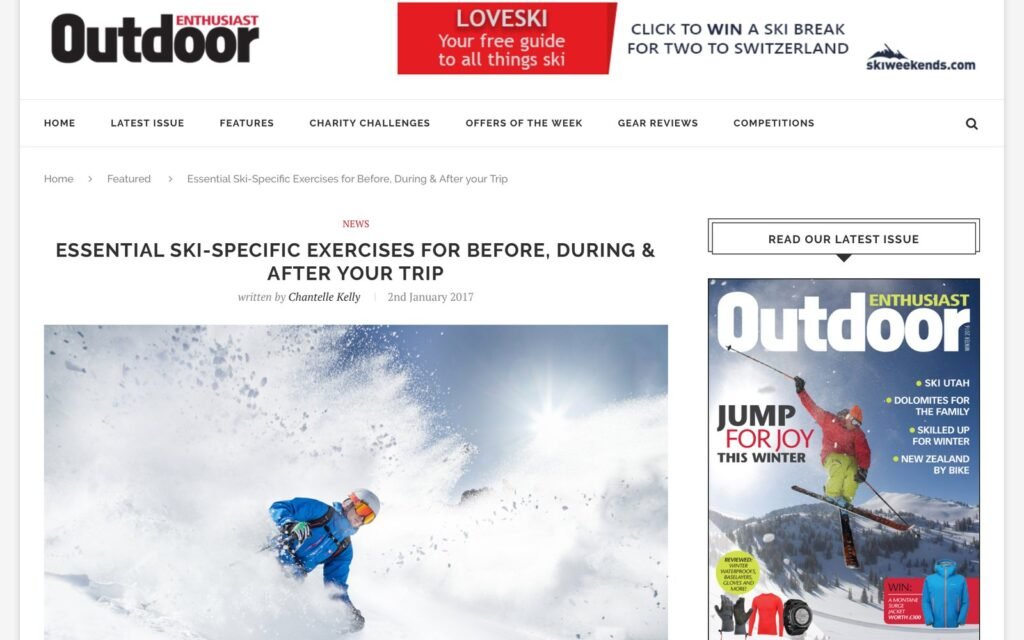 Laura Harman of Boost Physio has put together her top ski tips for before, during and after your ski trip for absolute beginners and seasoned skiers.
"Having a great skiing holiday is all about being the right kind of fit before you go, it will increase your enjoyment and will help with endurance, strength and flexibility, all vital for successful skiing. If your muscles are strong, and you get your posture and balance right you'll get more out of the experience and have more chance of avoiding injury", says Laura.
Pre-ski training
When training for skiing, you want to make your exercise regime as "ski-specific" as possible. To get the most out of your time on the slopes it all comes down to strength and balance, specifically from your gluteal muscles, quadriceps and core.
There are lots of pre-ski exercises you can do to prevent problems. You should adjust your usual regime to get mountain ready because your normal training regime might not be appropriate, as doing hundreds of sit ups to improve your core or spinning for hours to improve leg strength will have little carry over to the mountain.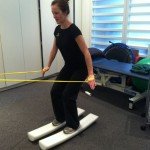 "It's a good idea to see a physiotherapist for an assessment before you go. If you have any niggles that always trouble you when you go skiing some expert advice and a few sessions of pre-ski physio might be just what you need. If you are an absolute beginner a physio will assess you and show you specific exercises to get you ready for the mountains", comments Laura.
Make sure your pre-ski workout should include the following:
Strength and conditioning exercises for the muscles around your hips, core and thighs. Strengthening should specifically focus on the gluteal muscles, quadriceps, core and your shoulder muscles. Beginners especially should build up their triceps before they go as travelling along the flat beginner slopes can be tiring on the arm muscles.
Pilates is the ideal for getting fit before you go skiing, ask your Pilates instructor for specific exercises.
Aerobic – HIIT – high intensity interval training to build up stamina.
Posture and Balance – Squats on a Bosu ball whilst doing triceps extensions to mimic the poling action can be very effective in addition to holding a squat in your "ski posture" on the Bosu.
A fun exercise, especially for beginners, to maintain "ski posture" is to squat on sliders, or put glossy magazines on a slippery floor and rotate and push the magazines in and out as you would on the slopes.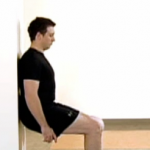 On and off-Piste
"Skiing is exercise, therefore it is important to keep hydrated and well fuelled. Always carry a bottle of water and a small snack such as nuts or a protein bar to maintain your energy levels. If you are going to ski in the afternoon I'd ideally stay off the hot wine at lunch-time, as tempting as it is", says Laura.
During skiing:
Pole position – Don't bunch up your shoulders, relax and drop them below your ears to avoid neck pain and arms should be relaxed and slightly away for the body to aid balance.
Boots – Wearing a fixed angle ski boot all day can cause tension to build up in the calf complex. Try to loosen your boot at lunchtime and flex your foot up and down to prevent this.
Posture – Poor posture can put excess strain on your soft tissues leading to stiffness and pain. You should be slightly flexed at the spine, hips, knees and ankles whilst keeping a neutral spine, open chest and long neck. You should be looking straight ahead at eye level with the centre of mass inside your base of support, balanced over your whole foot.
"Poor posture can lead to accidents, so it is vital to get it right. Skiing with your weight on your heels will disrupt your balance and skiing with back extended and knees straight will reduce shock absorption, putting pressure on you knees which can increase your risk of injury."
Off-Piste
If you can, have a massage every day to prevent any DOMS(Delayed Onset Muscle Soreness). Yoga and stretching are also vital to aid recovery from a full day on the slopes. Start at the top of your body and work your way down. Beginners may find stretching the upper back useful as it tends to overwork whilst trying to maintain balance. Don't' over-do it, skiing is demanding and your body needs time to recover.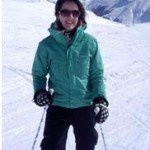 Post-Piste
It is normal to come back from a winter sports trip with a few niggles but don't neglect pain, especially if it doesn't go away. It is always a good idea to have a sports massage and get a post ski check up with physio for any ailments.
"Skiing is one of the best holidays you can have, the exhilaration of skiing, all that fresh air, and the beauty of the mountains is hard to beat. Go in peak condition and you are less likely to get injured. Look after yourself whilst you are away, recover correctly when you are home and you'll get the most out of one the most exciting and fun activities you can do," says Laura.
If you have a skiing related injury or need advice on preparing for skiing our physios with experience in dealing with skiers can help you. BOOST PHYSIO is a leading private physiotherapy practice with high street clinics across North West London.  We have 4 branches in the following areas:  .  Branches of our physiotherapy practice are in Cricklewood NW2, Hampstead NW3, Hendon NW4 and East Finchley N2. 
Our private physiotherapy clinics treat patients from all over North West London and North London. We provide same day physiotherapy treatment for sports injuries, neck and back pain.  Appointments are available 8am to 9pm and we even have Saturday and Sunday appointments available.
Patients come for physiotherapy from the following areas: Hendon NW4, Mill Hill NW7, Cricklewood NW2, Hampstead NW3, Kilburn NW6, Queens Park, Finchley Road, Golders Green NW11, Swiss Cottage and Willesden Green NW10.  Fortis Green, Muswell Hill, Highgate N6.
If you do have nay issues that need attention please book an appointment at one of our 4 High Street Physiotherapy clinics.
Physiotherapy hendon, hendon physiotherapy, physio cricklewood, cricklewood physio, physio NW2, NW2 Physiotherapy, Physio N6, Highgate Physio, physiotherapy highgate, physio hendon, hendon physio, physio nw London, nw  London physiotherapy
Related Articles
Categories
Clinic Information

020 8201 7788

Same Day Appointments
Mon-Thurs 8am-9pm
Fri 8am-3pm
Sun 9am-1pm

Health Insurance Recognised
BOOST PHYSIO works with major insurance companies like: BUPA, AVIVA, WPA, CIGNA and Simplyhealth. We usually deal directly with your insurance company.