How Triathlon Can Help Your Back Pain or slipped disc
Do you have a slipped disc or degenerative disc disease?

Have you stopped exercising as a result?

When can you go back to exercise?

What exercise is safe for you to do?

Triathlon could be helping your back!
It may surprise you that many of our patients with disc problems and pinched nerves are sports people, ranging from recreational to professional footballers.  Often, patients return to the wrong type of exercise or with the wrong attitude.   Often exercise aggravates their disc problem causing more pain.  The patient then becomes fearful about exercising and can spiral into feeling low about the fact that they can't exercise- leading to more back pain, more low feelings and so the cycle can continue.
Does it surprise you that Triathlon could be a great form of sport and exercise for someone who has a disc injury or has had back pain?  The combination of SWIMMING, CYCLING and RUNNING can be a wonderful way to get back to fitness, without harming your spine.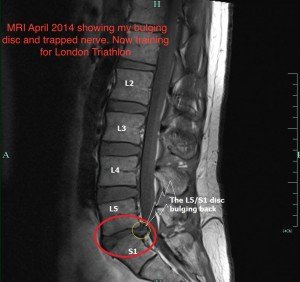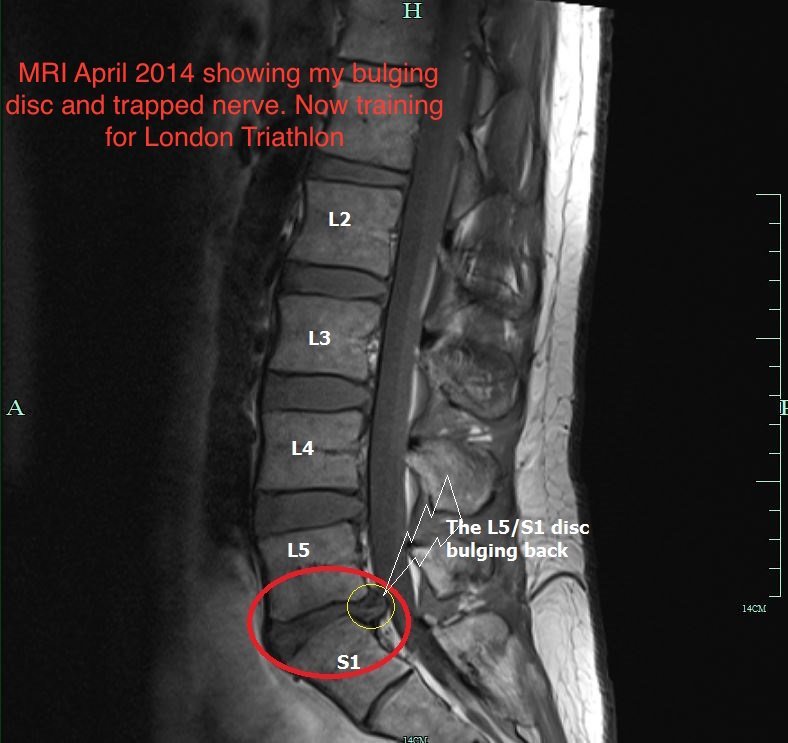 Here is the BOOST boss' personal experience about how triathlon training has helped him with is slipped disc injury.
"Training for Triathlon has helped me get back to fitness without over-stressing my herniated L5/S1 disc that was causing sciatica down my leg.  I was able to start gentle "therapeutic" swimming at around 4 weeks after I slipped my disc- this was around 20 laps of the 25 metre pool.  Within 4  weeks I could do a 1 mile training swim."

"I tried one 20km bike ride at 3 months, but my disc was not ready for that, so I stuck with swimming and power walking until about 9 months post injury.  At that stage I was pretty much pain free and had some reasonable core strength and endurance. I started an occasional 4-5km (3mile) jog and found I was pain free and had no adverse effects.  So from month 9-12 I would jog twice a week, swim once per week and then I phased in my cycling."

"Everyone's situation will be different, some people can start cycling sooner, others get back to running quickly" says Steven.  "The key is to listen to your body and do something positive to get you back in control of your pain, your exercise routine and your life.  Being in pain can be very depressing, exercise will lift your mood too and will in time recover your fitness and conditioning which in turn is key to controlling your back pain.  For many Triathlon will be a brilliant form of exercise, but it's not one size fits all!"
BOOST PHYSIO's 10 Triathlon Training Tips for people with back pain
Exercise should never worsen your sciatica (leg pain) or back pain more than any other part of your daily routine does
Start with swimming 2-3 times per week
Ensure your bicycle geometry set up is correct
Cycle twice a week and swim twice a week for 4 weeks, gradually increasing intensity
Make sure that your back or leg pain are still no worse than before you started training

Be honest with yourself

about tip number 5 above!
Commence running using a forefoot running style (this reduces some of the compressive force in the spine
Running causes substantial compressive force through the spine and discs, so keep the volume low to begin with
Gradually progress to two runs per week, 1 shorter faster run and one longer run at race pace
If training increases symptoms, return to swimming and identify whether cycling or running is aggravating your back
We hope that these tips will empower you and enable you to get back to enjoying the things you do, training, participating and feeling healthier and better!
If you need our expert help, please call us on 020 82017788 to see how we will help you on your road to getting back to your best or book an appointment online
Related Articles
Categories
Clinic Information

020 8201 7788

Same Day Appointments
Mon-Thurs 8am-9pm
Fri 8am-3pm
Sun 9am-1pm

Health Insurance Recognised
BOOST PHYSIO works with major insurance companies like: BUPA, AVIVA, WPA, CIGNA and Simplyhealth. We usually deal directly with your insurance company.